Solo Exhibition, New Jörg, Vienna
13. March – 02. April 2021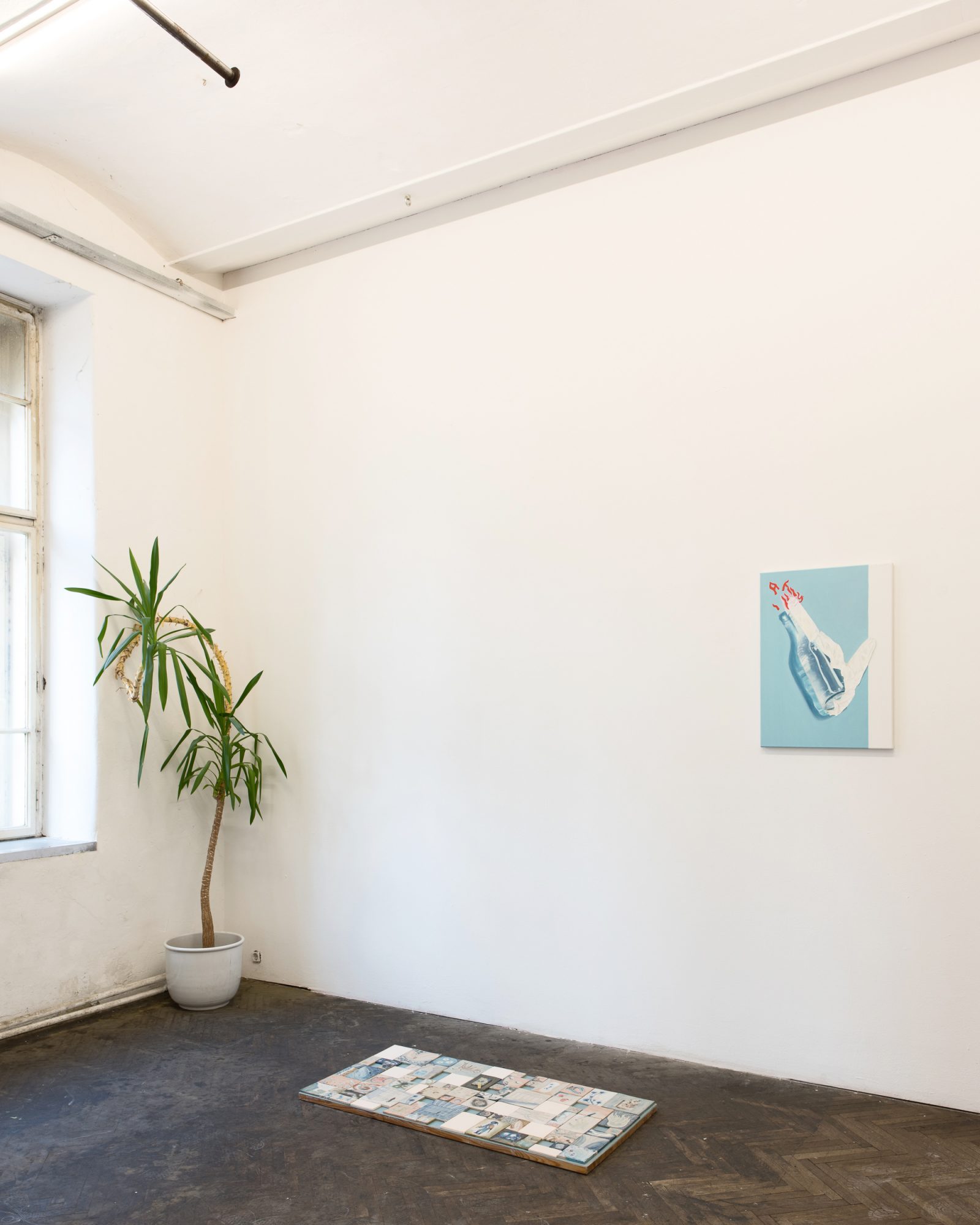 Photo Documentation © Enrico Floriddia
untitled, tile installation,
2021, underglaze paint on ceramic tiles,
15 x 15 / 15 x 10 / 10 x 10 / 10 x 5 / 5 x 5 cm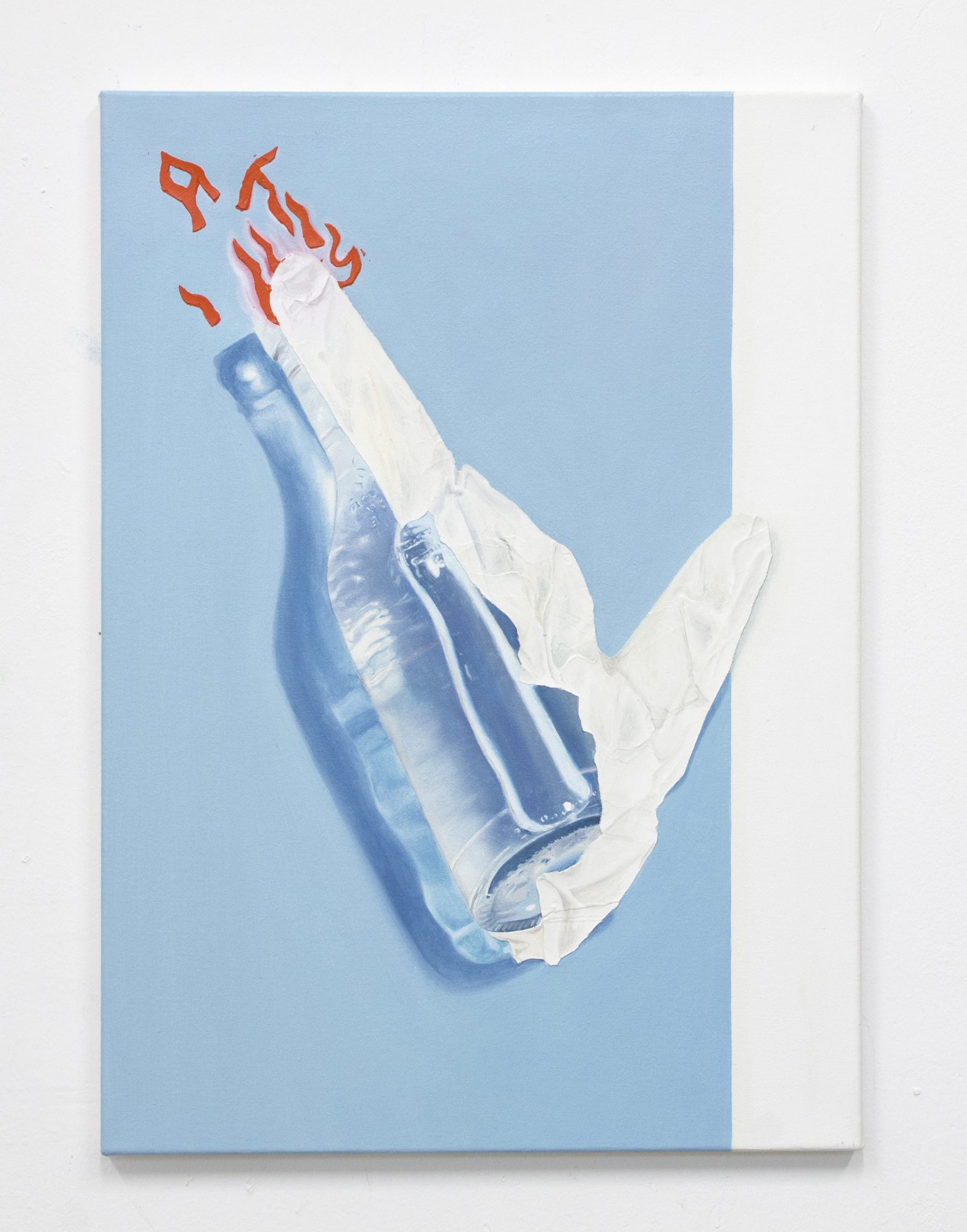 check my gloves,
2021, oil on canvas, 70 x 50 cm
Sticky sticky
Stick to the rules

Picking particles from your sole
How can I feel my immune system?
Mine has a sort of system error
It's attacking my healthy organ
without being asked to
How did it get this faulty code?

Into the air shower
Turn around, smoothly
And then go straight through
into the isolated blue

Nothing is sterile
We are born through and out of bacteria
millions of microbes
unfolding and imploding

Check my gloves for cuts
Check my gloves for cuts
Check my gloves for cuts

Horseshoe crab super immune system hero
The living fossil is a killer
It's blue blood is doing the job
Defending against the wrong bacteria

the wrong bacteria
the wrong bacteria

we are taking, collecting, studying, exploiting,
appropriating and transforming,
eventually form a symbiosis with it

blue like their hemocyanin
red like our hemoglobin

extracting the harvested goods
for limulus amebocyte lysate
precious blue
invaluable
LAL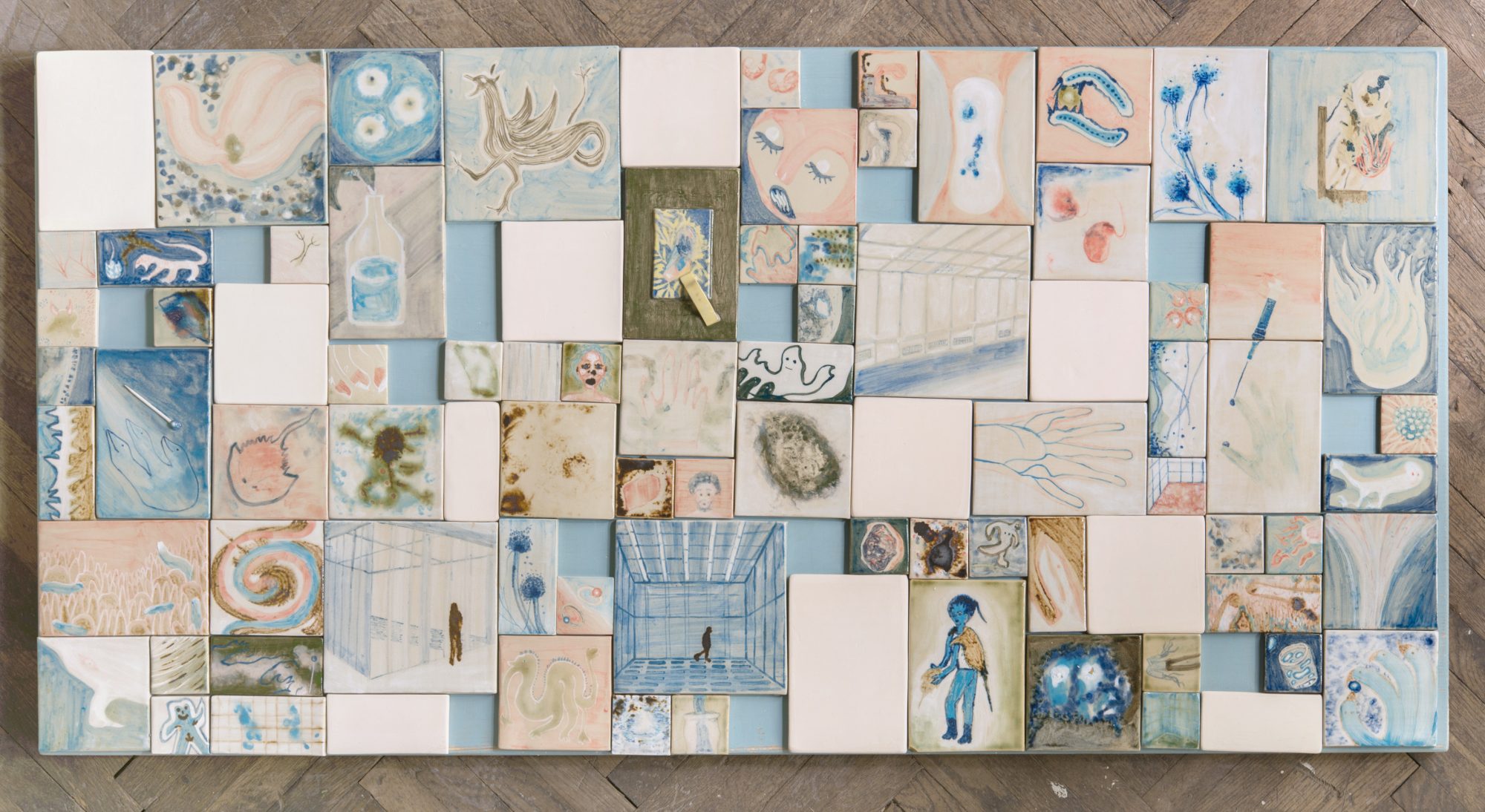 into the isolated blue,
2020, oil on canvas, 80 x 70 cm
untitled, tile installation,
2021, underglaze paint on ceramic tiles,
15 x 15 / 15 x 10 / 10 x 10 / 10 x 5 / 5 x 5 cm
---
horseshoe crabs,
2021, series of ceramic objects
The exhibition's title LAL refers to the Limulus amebocyte lysate test. The extract of blood cells from the Atlantic horseshoe crab reacts to bacterial endotoxins and was therefore developed to detect bacterial contamination. It's used to test medication, vaccines, implants or other things for sterility. In opposition to our blood which is colored red because of iron (hemoglobin) the blood of these living fossils is blue due to copper (hemocyanin) as it's oxygen transporter.
---
The video LAL is dealing with themes such as hygiene, clean rooms, immune systems, control, isolation, sterility as well as the question of human behavior in relation to contamination. The choreography was developed from behavioral rules and instructions for cleaning clean rooms. In these rooms the air is in a constant flow of purification and human beings are the biggest source of contamination. It was filmed with the dancer Zoé-Afan Strasser in a so-called 'Tröperflbad' — an old Viennese shower room of a public bath, which is still located at the Wiedner Bezirksmuseum.
---
LAL,
2021, 1-channel video with sound, 11'28''
Tröpferlbad – Wiedner Bezirksmuseum

Director: Veronika Abigail Beringer
Dancer: Zoé-Afan Strasser
Camera/Color: Daniel Jamernik
Camera Assistent: Paul Schnecker
Sound Design: Vlad Baran
Thanks to Wiedner Bezirksmuseum, Alina Strmljan, Gabriel Hyden and Dorfner GmbH & Co. KG.